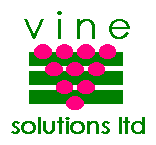 Constraint Solving & Problem Modelling
using the ILOG Optimization Suite
Vine Solutions Ltd offers a seminar and workshop programme
on your site,
tailored to address your requirements.
Choose from two to four days of specialised material
focused on the needs of your team or project.
Objectives of the Programme
The following are typical objectives of clients of the programme.
to give an appreciation of constraint solving technology;
to understand the role of the ILOG's products in scheduling and related applications;
to appreciate methods of modelling of problems for constraint solving,
especially employing ILOG Solver and Scheduler;
to present an overview of the functionality of ILOG's Optimization Suite;
to facilitate an understanding of the ILOG tools' programming interface;
to provide a workshop environment, facilitating learning using hands-on work
discussion of the customer's modelling problems.
The first two objectives are addressed at a level suitable for commercial as well as technical staff, usually over one day. Typical attendees are staff who prepare commercial responses to invitations to tender, project managers, designers and team leaders.

A second (and optionally third) day covers problem modelling for Constraint Solving and presents an overview of the functionality of the ILOG constraint solving tools. These sessions are for designers, team leaders and model developers.

There is an option, for staff with programming skills, to include hands-on sessions, creating simple tutorial examples. This will provide an excellent foundation for ILOG's own application programming course in Solver and Scheduler.

Clients may like to consider a fourth day, devoted to consultancy and discussions on their own projects, modelling problems and client applications.

Format of the Programme Sessions

The seminar and workshop is highly interactive, to ensure that it meets the needs of the attendees.

The attendees play a major role in a collaborative learning experience.

The early options, which may be attended by commercial staff, presents an overview of the material. It serves as a good foundation for the more technical options in the programme. Alternatively, for those with prior experience of constraint techniques or tools, the bulk of the early material may be omitted.

The latter part of the time will be devoted to discussions of the applications of the technology to the client's business, especially modelling of your projects in Solver and Scheduler.

We present a suggested programme.
Please select and arrange the topics which meet your needs.

Or email to state your own requirements.

Day 1 The Basics and Project Management Issues

Introductions (Vine Solutions Ltd, Ilog SA, Ilog Ltd, the client organisation)
A sketch of the ILOG product range (Views, Rules, Optimization Suite, Solver and support libraries)
Introduction to Search and Constraint Solving
Overview of ILOG Solver. Basics - constrained variables, constraints
Workshop: Solver - a very simple Solver example
Overview of ILOG Scheduler. Types of problem, an introduction to Scheduler
Workshop: Discussion time with project planning, project management and technical group leaders.
A discussion of project structure

Comments on technical risks associated with non-deterministic systems
Day 2 / 3 Technical Overview of Solver & Scheduler
Workshop: Solver - First examples
Overview of ILOG Solver. Writing search code and custom-constraints
Workshop: Solver - Basic search code
Overview of ILOG Solver. Meta constraints. Symbolic constraints
Overview of ILOG Solver. Writing Search Code and custom constraints
Overview of ILOG Solver. Custom generate & instantiate, 'Optimisation' and search space control
Overview of Scheduler. Types of problem, the Schedule object model
Workshop: Scheduler - First examples
Modelling For Constraint Solving
Global Constraints
Overview of ILOG Planner, the role of linear problem solving
Overview of ILOG Dispatcher for distribution and routing problems
Scheduling. Representation of resources and time, solution search
Workshop: Scheduler - 'Bricks in a kiln' - experience with Scheduler
Modelling - a discussion of the representation of applications in Solver & Schedule
Day 4 Modelling and Open Workshop
Workshop: Modelling - Modelling examples, case studies & experience. Problem abstraction
Workshop - Client Projects, modelling problems and applications
We look forward to helping you
to successfully apply Constraint Solving and Modelling
to meet the needs of your customers.

More on services.
Home
---
© Copyright Vine Solutions Ltd 1997-99 Email to: mp@vinesolutions.co.uk