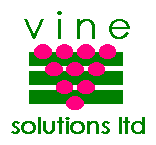 Vine Solutions Ltd - Services
Vine Solutions offers professional support services to clients developing leading edge applications using object-oriented technologies.
Scheduling, planning, resource management and decision support systems are developed cost-effectively, in practical timescales.
Advanced user interfaces provide highly productive tools for users.
Vine Solutions Ltd is up to date with the best tools and techniques to deliver your applications!
We are using the newest technologies in day-to-day practice, in leading edge applications, within commercial constraints, and delivering applications.:
design and consultancy services for decision support, resource management, planning and scheduling solutions
Bid preparation & risk assessment
Requirements and Feasibility
Review your design or help you draw it up
Design or build
Demonstrators or full application
Mentor for in-house staff
consultancy and training in the application of Constraint Solving, ILOG Solver and Scheduler
Public courses on behalf of ILOG, at their premises.
See
Our Course Overview

Vine Solutions own courses:
Constraint Technology Overview for project managers and commercial bid-preparation staff
Introduction to Constraint Technology, Solver and Scheduler
Advanced Solver & Scheduler
contract development using C++ and ILOG's tools
Vine Solutions Ltd is the UK's ONLY independent development service for Constraint Solving and ILOG tools!
Decision Technologies - constraint based solving and optimising and rule based systems
Graphical User Interface - advanced objects, gantt charts and integrated platform independent interfaces
Expert developer for ILOG's tools - Solver and Scheduler, Rules and Views - available for your project
Meeting your requirement for a highly skilled resource
design and development services for object oriented systems
Business analysis, UML, Object Modelling and Object Design for effective world class decision support systems
An experienced and highly skilled resource for your OO design & development requirements
C++ contract development service
C++ - Vine Solutions will deliver
Vine Solutions works with clients' in-house IT personnel or business unit staff to develop specifications, to design appropriate models and user interfaces, or to code applications.
Throughout a project you, the client, remain in control - Vine Solutions provides a highly specialised professional service to your project to meet your business objectives.
Benefits to your project.
---
© Copyright Vine Solutions Ltd 1997-99 Email to: mp@vinesolutions.co.uk