Vine Solutions Ltd
The Specialist Consultancy - C++ / ILOG Decision Technologies - UML, Object Oriented Design and Development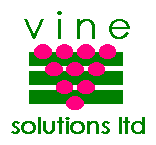 Vine Solutions Ltd is a specialised IT solutions consultancy. It works with clients on leading-edge systems delivering commercial advantage.
Vine Solutions helps you to build world class decision support systems for scheduling, planning and resource management.
Vine Solutions offers object-oriented, design and development services, mentoring and training, exploiting UML, ILOG technologies and C++.
An experienced, high quality specialist adds value to your project team, reducing risk and shortening delivery time-scales.
Vine Solutions is an ILOG Partner Company.
Clients are blue chip end user companies, ISVs, System Integrators and mainstream international consultancies.
Email to: mp@vinesolutions.co.uk Tel / Fax +44 (0) 191 4166389 9 The Chase Rickleton Washington Tyne & Wear NE38 9DX UK
---
A Specialised Consultancy
Vine Solutions is a specialised consultancy focused on resource allocation, planning and scheduling, and decision support solutions. It works with clients to develop leading-edge solutions delivering commercial advantage.
Building on extensive experience of business analysis, software development and the construction of constraint based solutions, Vine Solutions was formed by Mike Pegman to give clients access to a unique high quality service, covering a range of decision support technologies and gui interfaces.
A Proven Track Record
Vine Solutions is founded on Mike Pegman's leading role in the application of constraint solving tools in the UK. He has been delivering solutions with ILOG Solver and ILOG Schedule since 1992, when Schedule was in beta test.
Projects using this technology for blue-chip companies include:
Client

Application Type

More information

Courtaulds

production scheduling

Severn Trent Systems Ltd

utility service scheduling

Civil Aviation Authority

airspace capacity planning

BAA (Heathrow Airport Ltd)

ground movement scheduling

British Airways

stand & gate allocation

RTZ Technical Services

mine planning and scheduling

Civil Aviation Sector

rostering of

Science Systems

satellite mission scheduling

Logica

Aircraft Tail Allocation
for British Airways

Sema Group

technical risk assessment

Broner plc

metal industry - scheduler & interface

Automotive Manufacturing

production scheduling

ILOG ltd

Training public & on-site courses
In all of these projects Mike was centrally involved in design. In most he also held a C++ coding role.
Mike delivers training courses on behalf of ILOG Ltd, covering the Optimisation Suite - Solver, Scheduler, Planner, Dispatcher.

Mike Pegman's Resume
Vine Solutions also facilitates the ILOG Solver Schedule User Group and is an ILOG Partner Company

.
---
Clients
Vine Solutions clients, ranging from blue-chip end user companies, through system integrators and ISVs, to international consultancies, include the following organisations.
British Steel, The Broner Group, ILOG ltd, Logica, Science Systems, PA Consulting Group, STS ltd, Cap Gemini.
---
A Practical Service
Vine Solutions offers:
design and consultancy services for resource allocation, planning and scheduling solutions
consultancy, mentoring and training in the application of ILOG Solver and Scheduler
contract development using C++ and ILOG's tools - Solver, Scheduler, Planner, Dispatcher, Rules
design and development services for object oriented systems and UML modelling
C++ contract development service
Vine Solutions works with clients' in-house IT personnel or business unit staff to develop specifications, to design appropriate models and user interfaces, or to code applications.

More on services.

Onsite Seminar - an Overview
More on Ilog
Throughout a project you, the client, remain in control - Vine Solutions provides a highly specialised professional service to your project to meet your business objectives.
---
Benefits
Vine Solutions delivers:
experienced, high quality resource available to your projects as and when required
a specialist to which few companies have access, with in-depth understanding of both the market leading constraint tool and its application to commercial problems
flexible modes of work which fit your requirements and allow you to manage risk
Vine Solutions adds value to your team:
avoid project delays due to learning curves
avoid expensive design errors
support your in-house teams with an expert mentor
Vine Solutions works with you:
providing resource for your project and reducing risk
to create innovative applications
producing improved profitability and competitive edge
Vine Solutions Ltd Tel / Fax +44 (0) 191 4166389 9 The Chase Rickleton Washington Tyne & Wear NE38 9DX UK
---
© Copyright Vine Solutions Ltd 1997-2000 Email to: mp@vinesolutions.co.uk